The Translation Agent enables a document requiring translation to be compared against the TermBase and TextBase Translation Memory. Full and fuzzy segment matches are then interactively or automatically identified or replaced.
The Translation Agent is the translator's assistant, performing millions of searches in the background, and retrieving critical information. It rapidly identifies and extracts whole paragraphs, full and fuzzy sentences, and sub-segments, while returning results from your terminology databases, all in one single step! At all times, the user can see the contextual information for all segments identified from the TextBase TM.
The Translation Agent is highly user-friendly. It has been designed not only for migration by experienced users of conventional translation memory tools, but also to allow new users to rapidly master its many features.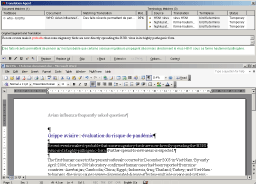 The agent offers seamless integration with Microsoft Word, Microsoft PowerPoint, Corel WordPerfect, and MultiCorpora's XLIFF Editor, which enables it to support several file formats, including XML, Web pages, and desktop publishing formats.
Voice recognition support;
Aggregated, automated searching of multiple TextBase

TM

s and TermBases;
Full context referencing of search results;
Automatic propagation of newly translated segments throughout the project;
On-the-fly TextBase

TM

alignment correction improves the TextBase

TM

as you work;
Integrated one-click terminology capture builds your TermBase as you work.
Because Translation Agent is integrated into Microsoft Word, also eTrados-generated RTF format files can be processed and Trados-RTF format files can be generated, for seamless compatibility with other tools.