The only tool that brings you THE BEST OF BOTH WORLDS!
MultiTrans 4 is an integrated suite of next-generation Computer Assisted Translation (CAT) capabilities that unlocks the value in your previously created content by putting relevant past translations and approved terminology at the fingertips of your language professionals. In addition, MultiTrans 4 offers compatibility with conventional TM tools. At the core of the MultiTrans solution are the following modules:
The TextBase

TM

(t

ranslation

m

emory)

and its Alignment Agent enable you to easily capture and organize all the past translations that are scattered across your organization and beyond;
The TermBase ensures consistent language use by providing a terminology bank of your pre-approved, standardized terms in multiple languages;
The Translation Agent enables users within Microsoft Word or other popular editors to interactively work with TextBase

TM

and TermBase, and a suite of automated search functions to translate a project;
The Analysis Agent provides comprehensive project analysis and reporting tools to support optimal project workflow decisions.
By empowering your distributed users to effectively leverage your accumulated language assets, MultiTrans 4 enables you to cut the waste out of your translation process while preserving the quality associated with the art of human translation. And unlike conventional translation memory CAT tools, MultiTrans 4 provides:
Rapid deployment: industry-leading Alignment Agent and full context eliminates tedious manual alignment validation;
Translation support for all types of documents: 100% recycling of past translations of any length with full context provides benefits for all types of documents, not just technical manual revisions;
"Pay-as-you-play" flexibility: new in MultiTrans 4, multiple versions and concurrent user pricing for single or multiple language pairs make it cost-effective for both power and occasional system users;
Convenient Web access: now an unlimited number of occasional users can access your TextBase

TM

and TermBase assets without additional licensing;
Workflow flexibility: open interfaces make MultiTrans adaptable and easy to integrate into your existing workflow and content management systems, so you can map to and streamline your existing business processes.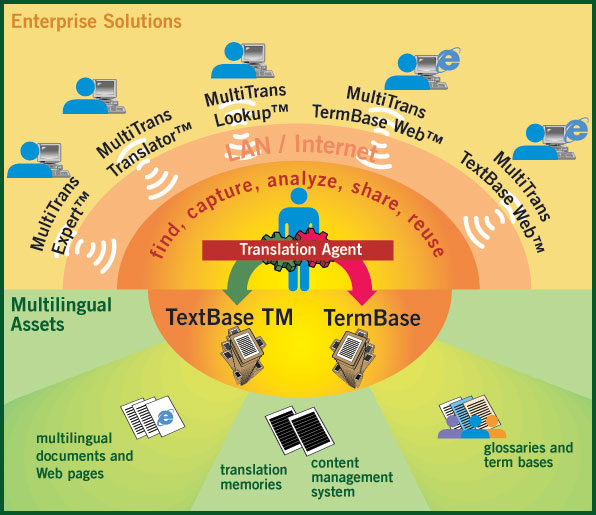 MultiTrans 4 Expert – Full-featured edition for project managers, power users and system administrators. Includes TextBase TM and TermBase management, all search functions, Translation Agent, analysis and reporting.
MultiTrans 4 Translator – Provides access to TextBase TM and TermBases for professional translators who focus mainly on translation, rather than system administration, analaysis or reporting features.
MultiTrans 4 Lookup – Includes all of the capabilities for creating, managing and searching TextBase TM and TermBases. Ideal for reviewers and translators who do not require the MultiTrans interactive and automated translation module, analaysis or reporting features.
MultiTrans 4 Server – Provides a robust collaborative architecture for multiple users to update and share TextBase TM and TermBases in real-time. Concurrent user licensing provides cost-effective and flexible access for occasional system users.
MultiTrans 4 TextBase Web – Web browser read-only access to TextBase TM.
MultiTrans 4 TermBase Web – Web browser read-only access to TermBases. An optional capability to allow TermBase updates via Web browser is available.
MultiTrans 4 Translation Extractor – Automatically identifies and extracts terms and their translations from your existing document translations.
MultiTrans 4 APIs – Enables rapid integration with your existing content management, workflow or other language processing applications.
MultiTrans 4 Freelance  – If you are a freelance translator and want the powerful benefits of the TextBase TM approach to translation, there are three solutions available to meet your particular needs.